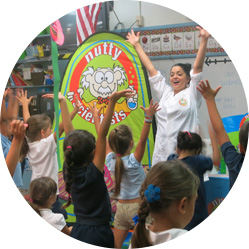 Nutty Scientists® curriculum is aligned to complement the Next Generation Science Standards (NGSS) and National Curriculum (Malta) to enhance the cohesiveness of students' science education. We understand the importance of having fluidity between what is learned in the classroom, on a daily basis, and what children experience through our engaging programmes.
The workshops such as; Observing Like a Scientist, Mrs. Moon & Mr. Sun, Crazy States of Matter, Rockets, Planes & Forces and many, many more are organized based on student's age. The programme is divided into cycles so that each level of education has a working curriculum appropriate to the age and knowledge of the student:
Level "Discover" – ages 5-7
Level "Explorer" – ages 7-9
Level "Expert" – ages 9-12
In-Class Workshop Objectives
Boost interest in science, environment, nutrition, astronomy and health prevention.
Strengthen students' knowledge about the environment around them.
To show them how learning can be useful and fun.
Increase participation, communication, and integration within the classroom.
To improve the academic performance of the participating students.
What can you expect?
An environment where students are encouraged to participate, boosting their self-esteem.
Award winning teaching methodology.
We encourage experimentation and participating in a very fun, engaging, and exciting setting.
An approach that gives the student a practical and authentic experience, which has been proven to enhance their learning and retention of important information.